Wedding DJ in Ashford, Kent
Congratulations on your upcoming wedding. As an award-winning wedding DJ in Ashford I have 20 years experience helping many happy couples celebrate their perfect wedding.
I am here to help guide you through your wedding planning, using my expertise to suggest the best way for a smooth and enjoyable wedding.
As a wedding DJ, I want to help you enjoy your day; I can provide the evening entertainment as well as setting up earlier to provide background music and the use of microphones for the wedding speeches.
The effort put into a wedding is usually a lot more than other type of events. A wedding should be your once in a life time experience, so you want it to be special for the right reasons and as your wedding DJ I want to help you create those magical memories. This is why I take the time to plan a wedding with you and ensure that your wedding reception runs smoothly.
I've worked as a wedding DJ at venues across Kent including in Ashford, Tenterden, Canterbury, Dover and Challock.
Wedding DJ Services
I don't offer complicated wedding DJ packages for you to choose from. Instead you have the choice of me being there as your wedding DJ for just the evening reception or to setup earlier to provide background music during the wedding breakfast too.
I'll arrive earlier in the day to setup to provide background music during the wedding breakfast and the option to have microphones for speeches. I'll be on hand in case you need anything else during the day, such as making announcements through the afternoon.
From £500, which typically includes being setup for 2pm and playing background music through the meal and then the evening party until around midnight
Not all venues have the space to have the disco setup all day long; for a lot of venues the disco shares the same area as the top table so it just isn't possible to be setup earlier. As soon as the room is ready I can move in and setup, which usually takes just under 1 hour.
From £375, which typically includes setting up at around 6pm for an evening function starting at 7pm and running through until around midnight
Other Wedding Services
If you're looking for something beyond a wedding DJ, I have a number of additional services that might be of interest to help enhance your special day.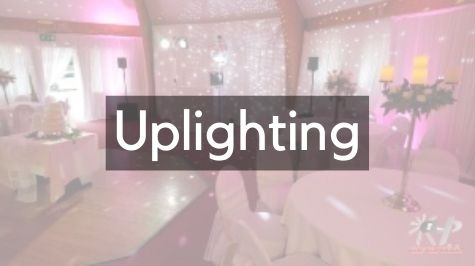 Adding uplighters to a venue can really enhance your wedding theme by projecting a colour wash on the walls without repainting the venue.
From £100 if you've already booked me as your wedding DJ or from £200 for an event in the Ashford area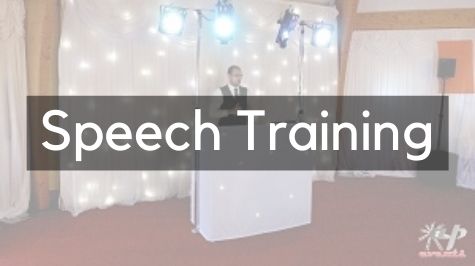 If you're looking for help writing or delivering a speech, I can help with both with my background in corporate communications.
From £30 for a face to face session to help you deliver your speech or from £75 for a 3 hour speech writing session
Wedding Music
Getting the music right for your wedding is important to the success of the night and it's important that we discuss the music that you and your guests like to help me understand what will work.
If you're looking for inspiration on what songs to choose for any aspect of your wedding, I've created a number of wedding music blogs to help you.
Part of the selection process can be made easier through the use of my online music request system, which you and your guests can use to add requests in advance as you think of them.
Last modified: 29 April 2021 at 19:49