Weddings Redefined
Although the current restrictions paint a bleak picture, there's an opportunity for smaller-scale weddings to continue from 21st June with a re-focus on the evening entertainment.
Traditionally the evening reception has been loud music, drinking and dancing. However, with restrictions on dancing and loud music, there's an opportunity to re-focus the evening to make it more of a cocktail party style party.
Imagine sitting back and enjoying the company of your guests as the evening slips away with a melody of music that creates a fun atmosphere.
This could be topped off by watching the sun set at the end of your magical day.
Covid-19 Wedding Options
The ongoing pandemic has changed the events and hospitality industries with many adapting to a new way of working.
As well focussing on the evening party as a wedding DJ, I also offer daytime packages that brings my expertise to helping the day run smoothly.
The features below can be used during an afternoon or evening reception.
A fun way to find out if you really know each other. I have standard questions that can be used as well as inviting key people to select some appropriate questions or suggest their own.
This can either be played as a game as a feature or more subtly by seeing who's listening to the background music.
With limited numbers likely for a while, I can play messages from guests that are unable to join you. They can easily record their messages on their own phones/tablets/computers and email these across to me. I can then edit these together to play as a montage at a suitable moment during the wedding breakfast so that they aren't left out.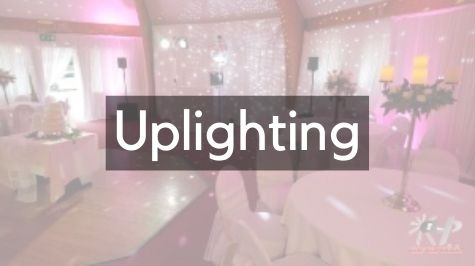 Adding uplighters to a venue can really enhance your wedding theme by projecting a colour wash on the walls without repainting the venue.
This is a handy way of breaking the ice on each table by asking them to answer the dilemma questions and let the conversation take off.
A great way of getting some different pictures from your big day is to set a challenge for your guests to take certain pictures as detailed on the card on their table.
A quick guessing game where guests predict how long they think all of the speeches will take. This can either be done simply for fun or as a sweepstake with the winner taking the money.
During the meal I will ask your guests to complete the pearls of wisdom cards on each table. Afterwards I will read out a few of the best ones and you can keep all of the cards to take home and treasure.
Get In Touch
If you're planning your wedding, contact me so we can discuss what you want to transform your day into a fun day to remember.
Last modified: 17 June 2021 at 19:53