Blog - Top 10 70s floor fillers
Posted:
Sunday 9th October 2016
By:
Andrew Broughton
Views: 4713
Continuing with my top 10 floor filler blogs, I'll go through the list of 70s songs that I dig out when required.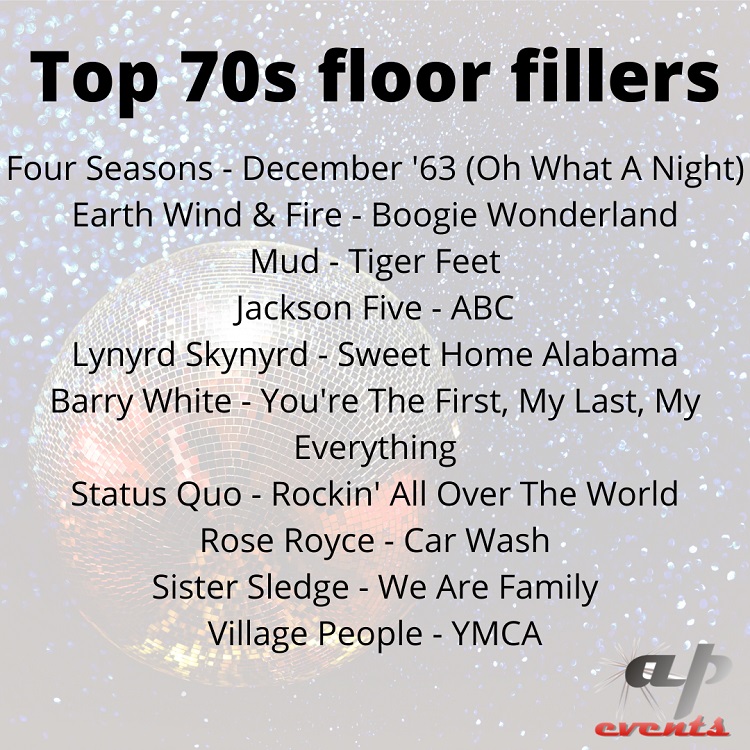 In no particular order, here are my top 10 to play at my events:

1. Four Seasons - December '63 (Oh What A Night)
2. Earth Wind & Fire - Boogie Wonderland
3. Mud - Tiger Feet
4. Jackson Five - ABC
5. Lynyrd Skynyrd - Sweet Home Alabama
6. Barry White - You're The First, My Last, My Everything
7. Status Quo - Rockin' All Over The World
8. Rose Royce - Car Wash
9. Sister Sledge - We Are Family
10. Village People - YMCA

Not seen your favourite track, what would you add?
Your Comments
No comments added, add yours below...
Add Your Comment