Blog - Top 10 Love Songs for Valentine's Day
Posted:
Wednesday 5th February 2020
By:
Andrew Broughton
| Read Time = 1 mins
Views: 1867
What are your favourite love songs (or slow dances)? I've covered a few top 10 lists of various genres over the last couple of years and with Valentine's day just around the corner it seemed appropriate to produce this list.
In no particular order, here are my top 10 love songs perfect for Valentine's day:

Robbie Williams - Angels
Ed Sheeran - Perfect
Savage Garden - Truly Madly Deeply
Lonestar - Amazed
All 4 One - I Swear
Celine Dion - My Heart Will Always Go On
Elton John - Candle In The Wind
Bryan Adams - Everything I Do
Chris De Burgh - Lady In Red
Bill Medley & Jennifer Warnes - (I've Had) The Time Of My Life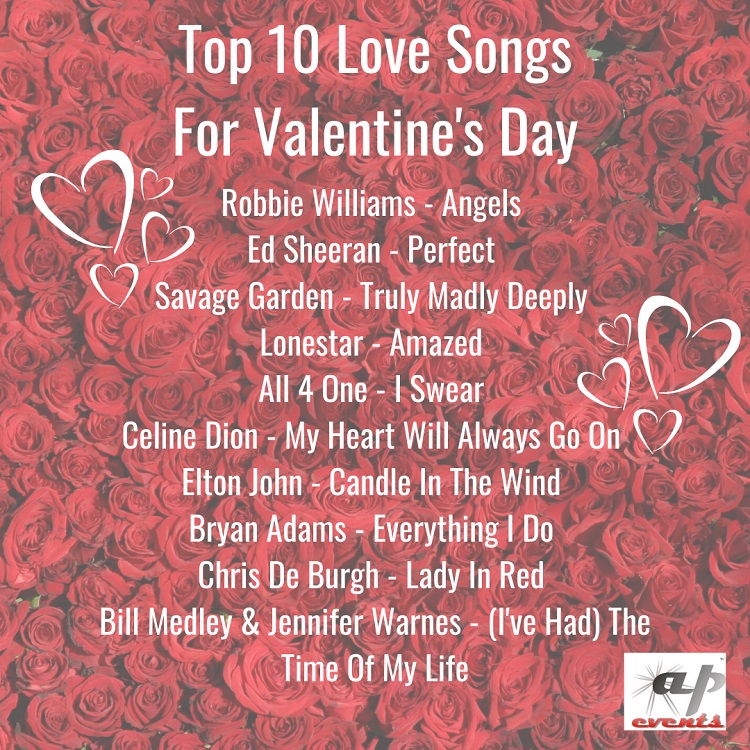 What songs would you add to the list?

#dj #weddingDJ #partyDJ #valentines #weddingmusic #lovesongs #apeventsDJ
Your Comments
No comments added, add yours below...
Add Your Comment