Andrew Broughton Wedding DJ
Congratulations on your upcoming wedding. As an award-winning wedding DJ in Ashford I have 20 years experience helping many happy couples celebrate their perfect wedding.
Your wedding is your magical day to celebrate with your friends and family the marriage to your special partner. You want everyone to enjoy themselves and for your wedding reception to be the one they talk about as the best they've been to.
To help me help you, I like to understand:
What do you want your guests to remember most about your wedding reception
What are the most important factors when choosing your wedding DJ
What have you seen at other wedding receptions that you definitely want at yours?
And what have you seen that you definitely don't want at your wedding reception?
Would it make sense to arrange a chat or request a quote?
I am here to help guide you through your wedding planning, using my expertise to suggest the best way for a smooth and enjoyable wedding.
As a wedding DJ, I want to help you enjoy your day; I can provide the evening entertainment as well as setting up earlier to provide background music and the use of microphones for the wedding speeches.
The effort put into a wedding is usually a lot more than other type of events. A wedding should be your once in a life time experience, so you want it to be special for the right reasons and as your wedding DJ I want to help you create those magical memories. This is why I take the time to plan a wedding with you and ensure that your wedding reception runs smoothly.
I've worked as a wedding DJ at venues across Kent including in Ashford, Tenterden, Canterbury, Dover and Challock.
Wedding DJ Services
I don't offer complicated wedding DJ packages for you to choose from. Instead you have the choice of me being there as your wedding DJ for just the evening reception or to setup earlier to provide background music during the wedding breakfast too.
I setup once you've finished your meal and the room is ready for the evening reception, which usually takes me around 45 minutes. Not all venues have the space to have the disco setup all day long; for a lot of venues the disco shares the same area as the top table and this is the most practical solution.
From £450 (2022 prices), which typically includes setting up at around 6pm for an evening function starting at 7pm and running through until around midnight
I'll arrive earlier in the day and provide background music during the ceremony and wedding breakfast. It also gives you the option to have microphones for speeches. I'll be on hand in case you need anything else during the day, such as making announcements and running activities to keep the guests amused.
From £650 (2022 prices), which typically includes being setup for 2pm and playing background music through the meal and then the evening party until around midnight
Other Wedding Services
If you're looking for something beyond a wedding DJ, I have a number of additional services that might be of interest to help enhance your special day.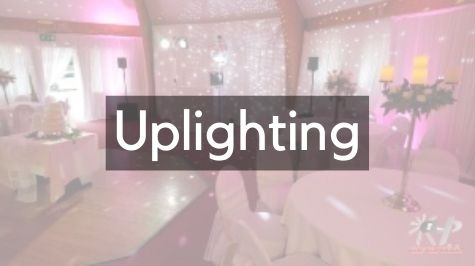 You've spent a lot of time choosing your perfect wedding theme, getting the colours just right. But what about the colour of the venue as you and your guests walk in? Would it make sense to add my uplighting package to have your wedding theme colours on the venue walls.
From £100 if you've already booked me as your wedding DJ or from £200 for an event in the Ashford area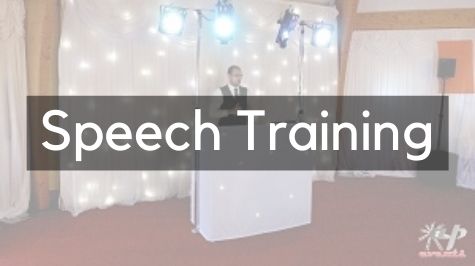 You look around the room as you finish your speech and everyone is laughing and applauding the killer speech you've just nailed. You feel a sense of great achievement that you've done it. And that can be you; I can help give you the confidence to deliver the speech you want to.
From £30 for a face to face session to help you deliver your speech or from £75 for a 3 hour speech writing session
Wedding Music
Getting the music right for your wedding is important to the success of the night and it's important that we discuss the music that you and your guests like to help me understand what will work.
If you're looking for inspiration on what songs to choose for any aspect of your wedding, I've created a number of wedding music blogs to help you.
Part of the selection process can be made easier through the use of my online music request system, which you and your guests can use to add requests in advance as you think of them.
Recommended Suppliers
I'm often down at the Little Silver County Hotel working along with some great suppliers and I would recommend all of them.
If you're looking for a photographer, I've worked with Kesteven Photography and Nikos Photography. It's also worth consider having your wedding filmed by David Findlay Wedding Videographer so those moments can be cherised.
And if you're looking for extras to enhance your magical day, Dreams Venue Styling offer the perfect venue dressing options and B&D Function Hire can offer a magic mirror.
Last modified: 05 June 2022 at 11:08